The Happiness Project
Have you ever thought what makes holiday season (both Christmas and New Year) so charming yet so deceptive and disappointing? I had this question in mind for over 5 years and now I have an answer: New Year resolutions! You read all those books about happiness, write down unrealistic goals, and fail somewhere between mid-January till mid-March. This is not how we want your year to go, so here is our one year of happiness with you! By the end of this article, you will get both book review and the happiness project planner!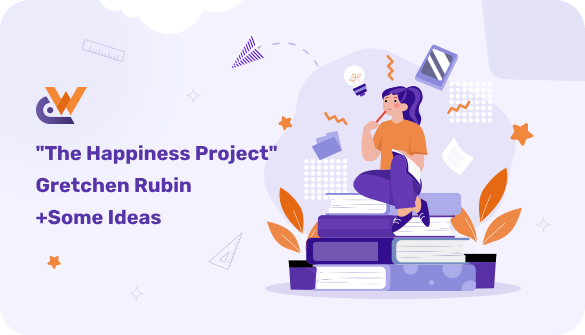 It's funny how you can both love and hate something at the same time. Let me share a book review of The Happiness Project by Gretchen Rubin as well as convert it into the very own version for college and university students.
First thing I have to be honest about is the fact this book is extremely controversial and unsatisfying for many people. It's not your regular happiness book. And this is why…
Gretchen Rubin in her book The Happiness Project sets herself a goal of living a happier life over the period of one year, paying attention to herself. Yes, many people have troubles with even the "Getting Started" chapter as it raises the main question of the book: are you happy with your life enough? Some people were arguing calling Mrs. Rubin a hypocrite as they thought she had everything to be happy. And many eyebrows were raised at that question people kept asking "How can you be not happy enough?" Some people argued that this is extremely selfish and egoistic book.
While I understand where these allegations come from, I do believe this book shall fall on the right soils, meaning it is extremely important to have a certain mindset or be in the place where you feel okay about your life, but not ready to start turning tables in order to be happier.
I was lucky enough to get this book back in the days when I felt good about my life, I didn't want any drastic changes. However, I was wondering if there is any way I can do better and feel better about the life I lived. So this book is divided into 12 chapters, one for each month dealing with different resolutions. There are two different ways of dealing with it: either covering one chapter a month (they even have a month in the title) or read it at the beginning of the year in order to plan your year ahead. I did both and I liked it very much as I've added everything to my planer and re-read every chapter each month to help me keep focus. It also has a great list of commandments and simple life rules to help you stay focused and realize what you want and what can make you happier.
What makes this book good? It's an extremely well-made mix of personal approach (as she tries her method first), seasoned with scientific facts and some comments along the way, well-served personal musings mixed up with a little pinch of philosophy and spiced up with real-life experience and humor. Flipping page after page, I've found myself smiling and even mopping tears. What happened after? I can't say I felt ultimately happy, but I was in a much better place, understanding myself better and knowing what to do next. And this was what made this book so important for me.
Why may one be confused or lost? This is not a unique happiness recipe for everyone. It is a story of one woman about her way to better life. So you will have to adapt it to your life and situation. Back in the days, I wasn't married, neither did have any kids, so I had to improvise on Parenthood section and adapt Marriage month to fit my dating life.
How can YOU live a better life?As my part of "give it back" marathon, I decided to create a students' version of the happiness project and share it with you to help you achieve what I had done back then. I am well-aware that many of you do not have time to read the book or deal with all the planning and adaptation, so here you go!
So, based on the book we created a set of advice to guide you in your journey. We would also like to live this one year of happiness with you, so at the end of this post, you will find not 1, but 2 free printable pdf files as a present from us! Free of charge and no registration required! Continue reading to learn more!
With the first chapter of the book, we start the preparation for the project. Let's begin with commandments for this year of happiness, meaning things that shall be true no matter what you are going to do or how events will unfold. Feel free to change, alter, or adapt them to make them as personal as possible.

Be yourself. No matter what happens along the way, stay true to who you are. Find a place where you can feel good about your beliefs and views.
Let it go. Learn to forgive yourself and let your past go. As long as you let your past define your future, you will have to deal with a mediocre life.
Act the way you want to feel. Imagine the best case scenario and learn to live up to it, trying to create that perfect picture. Believe that you can achieve it.
Do it. Now! If you have time and you have a task, just do it! I know it sounds like a motto from a popular commercial, but dealing with a nagging task will help you feel better and won't drag you down the alley of self-pity and shame.
Polite and fair. Let this two words define your behavior in college and the way you treat people in your life. Be polite no matter what and treat people fairly, even if they fail to treat you the same way.
Enjoy the process. Have you ever tried to turn a boring thing into an adventurous task? Try it, just look for the proper motivation and try to make any task as joyful as possible.
Spend out. Let yourself have those small presents and pampering gifts. Or celebrate your victories with things from your wish-list (but be reasonable about it).
Identify the problem. Learn to point out the real reason for the way you feel. Point out the problem and get to the 4th commandment.
Lighten up. Learn how to have an easier approach to life, focusing on positive moments more than problems.
Do what ought to be done. Let yourself be both spontaneous and responsible, finding a balance between those two. If deep inside your heart you feel this is what should be done, just do it without looking for numerous logical reasons.
No calculation. Do not try to figure out every single aspect of your life for next 5 to 10 years. Live here and know!
There is only love. And it doesn't matter whether we are talking about loving life, your pet, or having a significant other. As John Lennon once said, all you need is love.
As we have established your commandments for next year, we are moving forward to Secrets of Adulthood. This is a set of life lessons both from the book and personal ones, things I've learned over the period of over 10 years, and I sincerely wish someone would tell me this back when I was a scared freshman during the syllabus week.
Some of these secrets are suggested by the author of the book, while others are the proud legacy of my own life experience.
People don't usually care about you unless you interfere with their lives. Relax and breathe. The world won't fall apart if you wear no makeup today, or will wear the purple T-shirt with green pants.
Look for the simple solution. We keep overthinking so many things, looking for a deeper meaning, fighting a perfectionist battle, and loosing. Stop doing that!
Can't find something? Clean up your place! Try to have short but regular learning sessions and you will notice how easy it will be to find things.
Break down your work into chunks and do a little bit of everything every day. It will help you have diversity and still accomplish a lot.
Learn to ask for help and delegate. No-one would blame you for not being Bruce Almighty, so pluck up your courage and ask for help.
So here are our suggestions on a monthly plan to help you focus on little things every month. You can begin you happiness journey now or at any time you feel like doing it. Let me run through suggested options quickly:
Do a Research. Having a week and a half until the end of the month, we suggest you take your time and dig a little deeper inside of yourself. Use our free planning pdf to guide your research.
Level Up Your Energy. Let the next month help you focus on your health and energy level. Establish a sleeping routine, hydrate and take vitamins, force yourself outside, and do your best to take care of your body.
Remember Love. If you have a beloved one, take your time and show your appreciation. If you are still looking for your second half, devote this month to understanding both your needs and expectations.
Aim Higher (Academic Career). Spend time and set goals, plan ahead and understand where you would like to be. Create a study plan, think of any complementary courses or additional projects you could do.
Know Your Field. What's your major? What field can you work in? Take this month to get a clear picture of how you can get your foot in the industry.
Be Serious About Play. When was the last time you did something fun and joyful? Water balloon fight? Movie marathon and popcorn with your friends? A night of board games or twister? Plan your fun and step up your game.
Make Time for Friends. Can you say you are a good friend? Do you show up, remember birthdays, and spend time regularly? Devote soe precious time to your friends and spread your channel of communication.
Buy Some Happiness. How do you feel about spending money? Do you feel guilty buying yourself something? If so, take this month to find out what would make you extremely happy and get it! Look for that childhood kind of happiness when you knew what you asked for and yet were really happy.
Broaden Your Horizons. Spend this month looking for a new hobby, mastering a new habit you thought about for a long time, or apply for that internship even if you don't think you'll get accepted.
Pursue a Passion. Find something you feel great about and focus on it. Do you love painting? Great, spend your month working on a new masterpiece. Do you like reading? Plan your time so you can spend at least an hour and a half every day reading books that make you happy (we are not talking about studying!).
Pay Attention. This month can be a great time of paying close attention to both yourself and people around you. Start a mood journal to find out any correlation between your mood swings and events in your life.
Keep a Grateful Heart. Try to devote this month to the way you feel about everything in your life: family, studying, friends, and events. Spend each day writing at least 3 things to be grateful for and go 30 days without repetition.
So here is what we have promised at the beginning of this post!
Happiness Book Bundle: questionnaire for the happiness project (pdf) and the happiness project planner (free pdf) (both filled in and blank one)
How to use it?
download both pdf files and print them out.
work with a questionnaire, answer all questions, and write down everything you would like to achieve this year.
break your goals into the categories: Study, Work, Health, Love, Life, Gratitude, etc.
Fill in your happiness project planner by breaking down every big goal into the simple steps.
Plan weekly and monthly happiness project review time to see how it goes so far and understand what can be done better.
By the end of the year, look back and give yourself a positive but honest evaluation.
Enjoy your best year and be happy! Let us know how it is working for you during this year and remember that we can write The Happiness Project book review for your class.
Read more on this topic: