Tips on How to Complete Comprehensive and Informative Critique Article
What Is a Critique?
Before getting to compose a paper itself, you should answer the question "what is critique." We'll start with clarifying the key points of the mentioned type of writing. A critique article is the one that aims at evaluating and giving feedback on a certain piece of work, a film, or a book. The content to be processed can be even scientific. However, the conclusions in a paper could not be baseless, a writer should provide a range of evidence and arguments to support each claim.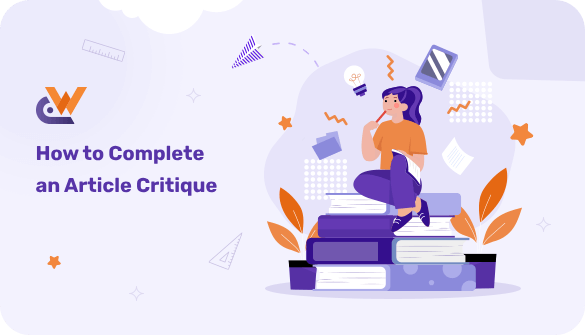 How to Critique a Research Article
Nevertheless, the strategy to be applied for successful completion is quite straight and uncomplicated, a lot of students doubt responding to an issue "how to critique a research paper?" In most cases, an instructor gives you some general information and no more concrete instructions. That is why some of you mistakenly perceive it as if you only need to retell the written book and propose your view on the events and matters discussed. Partly, it is right, but still, it is far more challenging to compose a comprehensive critique paper.
The further points highlight crucial characteristics of the critique article and its rationale:
You should understand that your mission is not only to conclude but actually to assess. It is a widespread problem among college students, while they only sum up the work they have undertaken. However, the structure of a journal article already concludes a summary. The core thing that is required is your analytical thinking and creative view of things. When you have sheer interest, it is not a problem to discuss the most catching issues.
Being emotional may be a sign of your curiosity and sincerity, but facts are also requested. Make a reader trust you showing a number of reasonable arguments.
Mention the main idea of a piece of work. What is more, you can find out more about the purpose of writing, its background, and motives of a writer.
Your main task is to draw attention to the weighty items delivered in the article. You can also highlight what a written piece keeps away from.
How to Critique a Journal Article
Is there any precise plan on how to critique a journal article? Being informed about the meaning of the key concepts, we get to the step-by-step approach to apply when completing a critique assignment. In fact, it is really crucial to insert them into your working routine to make it structured and goal-centered.
Step 1: Read Attentively
It may sound too simple, but before you assess something, you need to be into it. That is why devote enough time to reflective reading and examination of the text you need to analyze. You should also take into account the peculiarities of a journal article. At times, they can be very long. Even more, discussing a vital issue from the sphere of science, it may contain numerous terms that you do not know. So, get ready to define them. The process may involve basic research concerning the subject raised.
That will help you to feel more comfortable when evaluating a written piece on the particular branch of science. You should be also aware of the current situation and up-to-date facts.
Be careful to understand the author's main point. Focus on the argumentation and the way it is introduced in a text.
We advise you to use such a handy tool as an app that offers a function of taking notes. It depends on the way that is more comfortable for you, you may do it more traditionally or you can save your time with the help of your device.
Check if you point out the main details of the article you read and reflect them in your research.
The problem discussed
The aim of research
Hypothesis
Methods applied
People who have taken part
Changes
The findings you have derived
Summary
Do not forget to record your ideas and thoughts regularly. Reading it repeatedly is needed for better comprehension of an article. Making conclusions is a final step that may be completed only after a hard-nosed and rigorous evaluation.
Do not try to shorten your notes. If the notes are too brief, then it doesn't fully convey your viewpoint. You should keep in mind that the writing you are working on is academic. Sure, you may spend a little while to read all these notes then, but you will realize how beneficial this method is for avoiding the failures in the process.
Step 2: Provide a Clear Outline
This is high time you made all your ideas structured and composed an outline out of them. This is a preliminary outline which precedes the article itself. It will help you to understand in which way you will express your ideas and organize argumentation.
Step 3: Dispute the Central Issues Raised by an Author
You need to understand the contradiction between analysis and summary, which is a very decisive thing while completing a critique article. You should be a critical analyst and sound persuasive. The discussion you lead should evoke people's interest to be pensive and consider the points you bring out.
To be convincing, you should think over how it all looks for a reader, whether it is all logical and comprehensive. Research is a very powerful thing. Going deeper into the topic, you have a chance to provide readers with an insight into a question, find out the reasons and roots of many things.
You can check if your writing is rational comparing the intro section and your summary.
In addition, these aspects are vital to consider the logic of your article:
Methods you applied for research
Outcomes
Discussion
Stylistic elements.
Try to figure out the contradictions in a piece of work. There could be some things that provoke bias yet not necessarily they have been included on purpose. Some ideas may be interpreted incorrectly or the theories of other authors may be explained in a way that is advantageous for the writer, but they can be far from the truth. Find the weak points of an article and make it your benefit.
If you do a critical analysis, it doesn't mean that you should sound negative. The thing is to compartmentalize advantages and disadvantages, mistakes and positive elements of an article. Start with active reading taking a great load of notes. This is a crucial thing for the outline. Write it up and do not forget to revise.